Usual weather during Dutchweek Gerlos:
8°C
45 cm
Update Dutchweek Gerlos 2020
The Austrian government, unfortunately, has made the decision not to allow any more events due to the coronavirus. The tourist office and the municipality of Gerlos will follow this directive. The planned event in Gerlos from 28 March - 5 April 2020 is unfortunately canceled.
Health is paramount in this case. 

For the time being, according to the travel advice from the Dutch government, "no special security risks" apply to Austria. At the moment the ski area is open and the same applies to a large part of the hospitality industry. At this moment your winter sport can continue as planned, only without our stages and artists. For up-to-date travel information, we kindly refer to the site of the Ministry of Foreign Affairs (https://www.gov.uk/government/organisations/public-health-england)

We understand that you want clarity as soon as possible. We and the travel agents do our very best to answer all questions as quickly as possible. We appreciate your patience in this exceptional situation. It is best to ask your questions about your personal situation by email. If you have bought your tickets via Eventix, you will receive a personal message from us before or on Sunday.

Thank you for your understanding! 

With kind regards,
Anouk Schrijver & Wim de Zwart

===

Dutchweek Gerlos
Get ready for ONE WEEK filled with entertainment! From 29 March - 04 April 2020 we will gather to close the season in Dutchweek style. Join us the whole week or for a long weekend, you decide! We are celebrating Dutchweek Gerlos two times for 4 days. This way you will get all the best Dutchweek has to offer. 

During Dutchweek Gerlos we have the best international music, famous Dutch DJ's / artists and tons of confetti! We are working on our exciting head-lines as we speak to ensure a magical and memorable event, it's the best end-of-season experience on offer.
Are you participating in the Zipfelbobrennen? Get your ticket at the Ticketshop for free.
Are you not participating in the Zipfelbobrennen? Make sure you do and get your ticket at the Ticketshop ; )

Make sure you follow us on Facebook and Instagram to stay informed on every development and aspect of this phenomenal week.
Dutchweek Event bands.
Make sure you don't miss anything!
With your Dutchweek event band, you have access to all our parties!
If you book through Summit Travel, your event band is directly included. Do you book through SunWeb? Check the "Dutch week ticket" box when booking. (You can tick the box during the booking process under 'step 1' arrangements).
Already booked but in need of extra event bands? Click here.
Dutchweek Gerlos: sun, snow and amazing parties.
Dutchweek Gerlos offers you all your heart desires. Super entertainment, great slopes for beginners to highly experienced ski runners, fast and convenient lifts and, of course, the authentic Austrian hospitality. 

Gerlos is connected to the Zillertal Arena, a gorgeous and expansive ski area with more than 153 km of slopes. The high elevation guarantees snow and the modern facilities make it easy to move across the area. There is even a connection to other ski areas like Zell am Ziller and Königsleiten.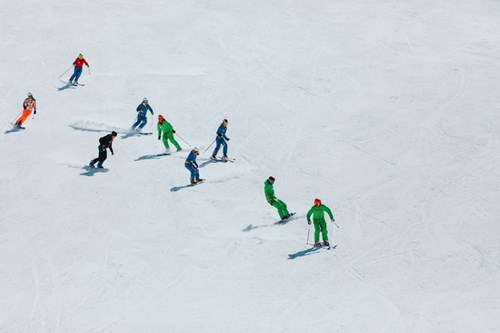 Looking for off-piste adventure? You will find these around Gerlos and on the Königsleitenspitze. Free-stylers show their tricks on the 100m long half-pipe in Gerlos as well as on the ski-jumps and in the fun parks close to the Vorkogel.
Various slopes lead you back to the village or even directly to your accommodation. Which is very convenient to continue the Dutchweek festivities after a beautiful day in the snow and parties on the slope.
It is all in the details!
Height:

 

Ski pass:

 

Level of Experience:

From beginner to experienced.

Slopes:

Total:153km 
44km blue, 97km red and 12km black.

Snowboarding:

Fun parks, half-pipes.

Other activities:

Free-style

Lifts:

 
Dutchweek Gerlos
Buy your event wristbands here
Slopes Gerlos
Zillertal Arena
Green
There are a few green fields available in Gerlos.
Blue
44 km of blissful blue slopes.
Red
97 km to get the legs working.
Black
12 km to get the most out of your ski's​.
Program Dutchweek Gerlos 2020
Need information, lost something or in need of extra Dutchweek wristbands? Our team is available from Wednesday to Saturday from 9 am to 9 pm at the welcome desk. 

Pick up your Dutchweek wristbands at our welcome desk and get a nice goody bag!

Download the WOOV app for the opening hours of the information desk and the most up-to-date line-up information.

On Sunday (March 29) our partner Snowsuits organizes Early Bird Skiing. Register via info@snowsuits.eu

On Friday, April 3, it's Race Day! You can register here for our Zipfelbob Racing, the competition starts at 11.00 (you have to be present at 10.30).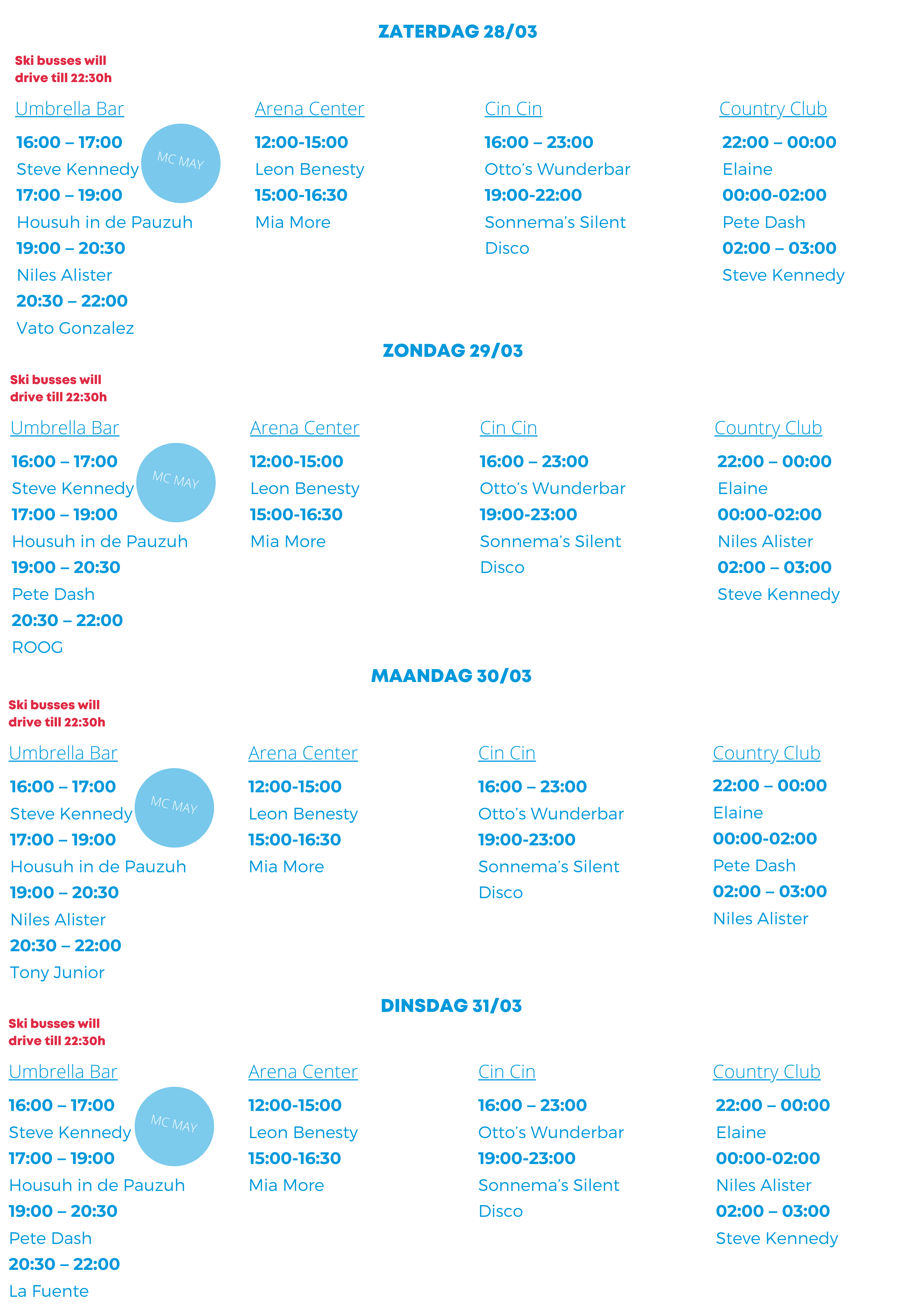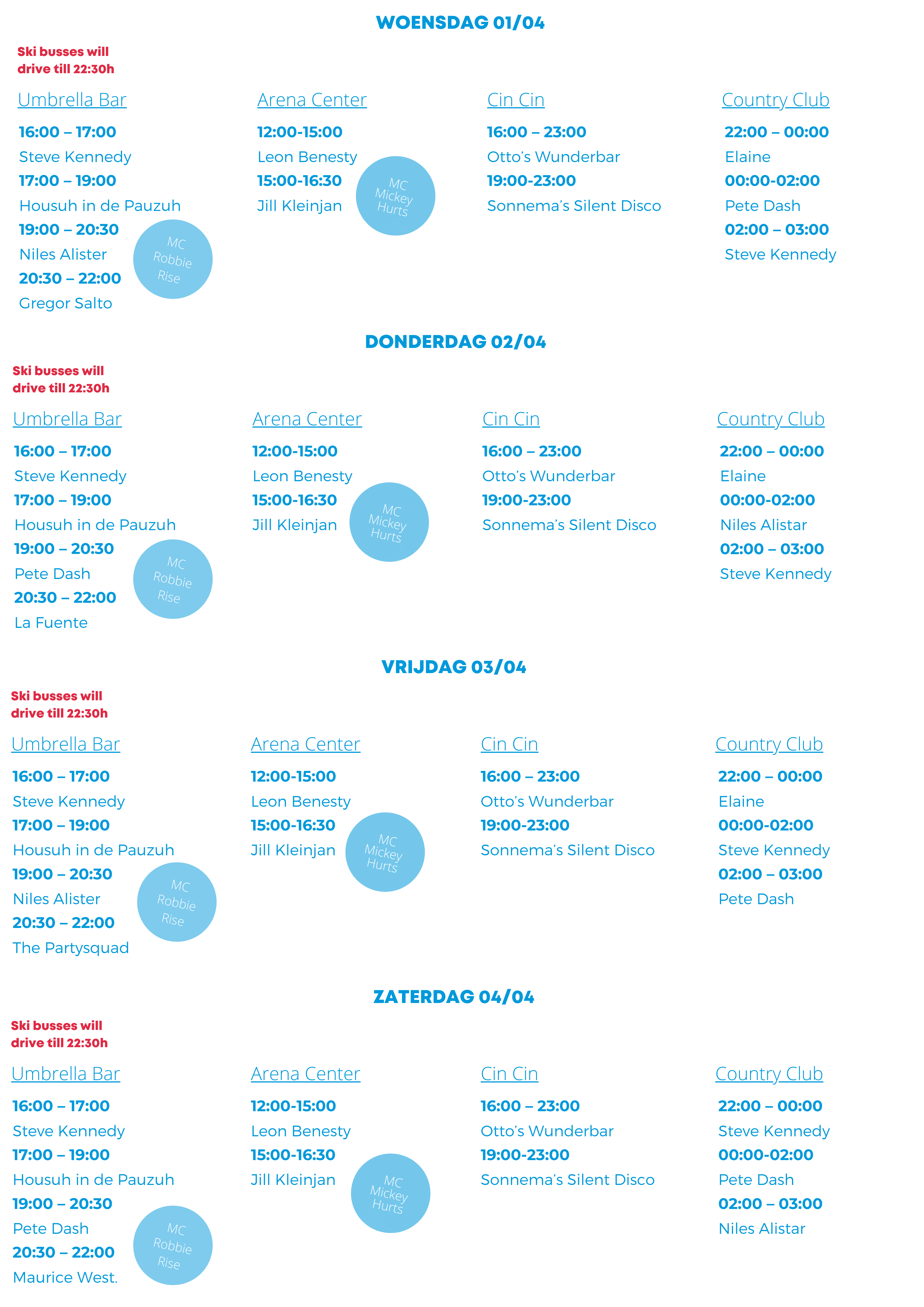 Our other events.
Excited about Gerlos but curious to see what else we offer?