During Dutchweek Saalbach the weather is usually:
8°C
45 cm
=== Update Dutchweek Saalbach 2020 ===
The Austrian government, unfortunately, has made the decision not to allow any more events due to the coronavirus. The tourist office and the municipality of Saalbach will follow this new directive. The planned event in Saalbach from 18-22 March is unfortunately canceled. Health is paramount in this case.

For the time being, according to the travel advice from the Dutch government, "no special security risks" apply to Austria. At the moment the ski area is open and the same applies to the hospitality industry. At this moment your winter sport can continue as planned, only without our stages and artists. For up-to-date travel information, we kindly refer to the site of the Dutch Ministry of Foreign Affairs (https://www.gov.uk/government/organisations/public-health-england)

We understand that you want clarity as soon as possible. We and the travel agents do our best to answer all questions as quickly as possible. We appreciate your patience in this exceptional situation. It is best to ask your questions about your personal situation by email. If you have bought your tickets via Eventix, you will receive a personal message from us before or on Sunday.

These circumstances are beyond our control and unfortunately affect everyone, including us. We are in close consultation with the tourist office and municipality of Gerlos as well. More information about this will follow as soon as possible.

Thank you for your understanding!

With kind regards,
Anouk Schrijver & Wim de Zwart

===
Dutchweek Saalbach.
The Saalbach area has enjoyed a stellar reputation amongst winter sports lovers for many years. From 18 - 21 March 2020 we will take over the slopes and the village with our Dutchweek festivities. When you enjoy Austrian winter sports and a great party do not miss out on Dutchweek Saalbach!
It does not get bigger than Saalbach! We organize parties in 9 bars and clubs! Your 'Dance Card' will be completely full during the event. Dutchweek will provide you with the best tunes and amazing views at Montana Royal and the greatest club hits at Taverne. A non-stop party from lunchtime to the early hours. Check our complete program here >>
Together with the local tourism board, we will organize another exhilarating snow bike race on Friday. You can participate for free. Challenge your friends and make it a true race. Arrange your starting place via our on-line ticket shop.
Make sure to like our Instagram and Facebook to ensure you do not miss any news on the program, the line-up and snow conditions.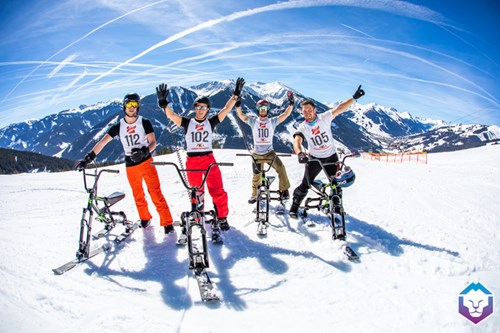 Dutchweek Event bands.
Make sure you don't miss anything!
With your Dutchweek event band, you have access to all our parties!
If you book through Summit Travel, your event band is directly included. Do you book through SunWeb? Check the "Dutch week ticket" box when booking. (You can tick the box during the booking process under 'step 1' arrangements).
Already booked but in need of extra event bands? Click here.
Dutchweek Saalbach, a true fairytale!
Saalbach is amongst the most famous winter sports areas in Austria and has a stellar reputation for its cozy atmosphere. It is a sophisticated village right at the end of the Glemmtal. Saalbach is part of the fantastic ski area "Skicircus Saalbach-Hinterglemm" with no less than 200km of slopes. The characteristic car-free center of Saalbach is known for its hotels and shops. The ski area offers unlimited snow fun.
While the village already has a reputation for fun and enjoyment, Dutchweek Saalbach will turn the experience into an even bigger PARTY. We are organizing a fantastic program ensuring some great memories. Our ingredients for this Dutchweek Saalbach; Great Wintersports, dancing, the best international tunes and simply lots of fun.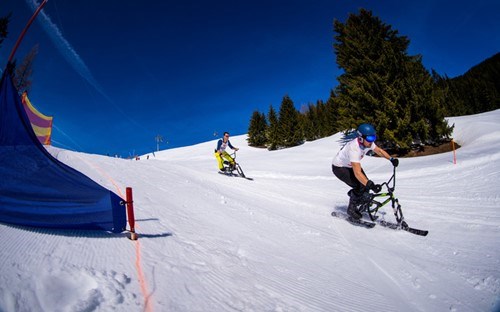 Let the festivities commence!
The three separate ski areas of Saalbach, Hinterglemm and Leogang have recently been joined up and offer 270km of pure bliss. The perfectly prepared slopes make Skicircus Saalbach-Hinterglemm one of the most fun and connected ski areas in Austria.
With 70 fast and modern lifts waiting lines are reduced to a minimum. Beginners will love the wide pistes of, amongst others, the Kohlmaiskopf, Bernkogel, and Reiterkogel.
The real dare-devils should not miss out on the steep descent of the 2,020m high Schattberg or the world cup descent of the 1,924m high Zwölfer. You can enjoy your skiing and snowboarding until late in the day on one of the several lit slopes and fun park around Hinterglemm.
Of course, there is plenty to enjoy for snowboarders and freestylers too. Beyond fun parks and half pipes, there are specially designated snowboarding slopes.
The area is not only named "Ski Circus" for its incomparable skiing facilities and activities. The après-ski experience is of a different caliber altogether. Especially combined with the renowned Dutchweek atmosphere. "Long pistes and short nights" is a popular expression in Saalbach-Hinterglemm and we can only agree.
It is all in the details!
Height:

800m – 2,000m. Plenty of "snow cannons" to guarantee skiing fun.

Ski pass:

Valid for the entire "Ski Circus" area.

Level of Experience:

A true experience for all levels.

Slopes:

270km: 140km blue, 112km red and 18km black.

Snowboarding:

Fun parks, half-pipes and designated pistes.

Other activities:

Cross-country skiing-  10km of slopes in the valley, 2km at 1,400m high
Snow rafting,
Ice skating,
Rodeling,
Paragliding,
Snowshoe trails. 

Lifts:

60 Lifts: 21 drag lifts, 20 seat lifts, and 29 cabin/gondola lifts
Slopes Saalbach - Hinterglemm
The 'Skicircus' Area
Green
The green fields for clowning are limited in this area.
Blue
140 km to practice your​ acrobatic moves.
Red
112 km for some delicate trapeze moves.
Black
18 km for a serious cannonball​ act.
Program Dutchweek Saalbach 2020
Welcome desk
Need information, lost something or score an extra event band? Our team is available from Wednesday to Saturday from 9 am to 9 pm at the welcome desk (Meeting Room Saalbacher Hof Hotel). If you pick up your event bands here, you will get a nice goody bag. Download the WOOV app for opening times and the current line-up. The party starts here with smashing performances from the Brass Rave Unit. (on Wednesdays from 3:30 PM - 4:00 PM and 6:00 PM - 6:30 PM, Thursday and Friday from 4:00 PM - 4:30 PM).

Race day
Together with the local tourism office, we organize an exciting "snow bike race" every Friday. Participation is free. Challenge your friends and make sure you are the fastest down! You can already arrange your starting place through our ticket shop.

Yoga in the snow
New this year is your "zen" moment in the snow with a delicious yoga session + breakfast. Reserve your place (s) in our ticket shop.

Lift music
Daily party at the Kohlmaisbahn! This year you will get to the slopes in Dutchweek style, from 9.30 am - 10 am the Brass Rave Unit is ready to turn your lift-experience into a Dutch week experience.

The very first descent.
On Friday, March 20, Snowsuits organizes the Early Bird Skiing, register via info@snowsuits.eu


Our line-up

Our other events.
Loving Saalbach but curious to see what else we offer?